Hello everyone in internet land

!

Let's see...I was awakened this morning by my husband, who got up with the cretins and shoved them off to school, with an egg sandwich and coffee. Do I not have the best husband in the world? WOW, what a way to start the day. :) Just had to share that.
Today on Talkin' Tuesday, I have the raciest woman I know

!

Total pun intended. Ms Sutton Fox has come to visit. She's brought her own race car and some steamy stories, too. She'll be giving away her short story, Christmas Holly, to one lucky commenter in preparation for her soon to be released, Christmas Knight.
Sutton

!

Come and sit down. Coffee, Tea? My husband might come in today, but since he woke me up with breakfast in bed, I think we can let him hang out.
What's your favorite read & series?
J.R. Wards' Black Dagger Brotherhood series and the In Death Nora/J.D. Robb series would tie. BDB is awesome, but Eve Dallas is a character close to my heart.
Okay babe, what/who got you reading?
In elementary school, it was my first trip to the school library. It opened up whole new worlds for me.
You've gotten great reviews on your stories. Tell us, were you doing the happy dance or what?
Absolutely. It's a thrilling yet humbling experience to know someone else loves your darlings too.
Writing was a natural thing for you, but what part of it is the hardest?
I over analyze what I put on paper. I can't just slap anything on the page. I wish I could just 'let go' and write whatever comes out and edit it later. It's got to be right the first time, and that makes it more difficult than it has to be, I'm sure.
Yikes

!

I hate to see you 'junk drawer'. LOL
Too organized Plotter or Maniac Panster?
Too organized. Die hard plotter.
You're starting to sound like an accountant, you know. :)
You have your own race car

!

Sooooo totally cool

!!

How awesome was that moment?
Thanks

!

*big

smile* It was very awesome. I worked and saved for a long time for it. Besides being a published author it was my second biggest childhood dream, come true. And it's as green as I can make it. It runs on E85, not racing fuel, and I recycle all fluids, tires, and metals.
I drive wayyyyyy too fast to own something like that

!

For years I drove a Crown Vic Wagon just so I'd learn how to slow down. Heeheehee
Is there anything we all would be shocked to know about you?
There's lots. *wink* *smile*But I'm saving it for when they do that Lifetime bio pic, or for when I write my 'tell all' memoirs.
For Fun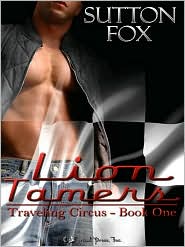 Red & sexy or Black & mysterious?
I do still buy the occasional paperback, but read three times as many ebooks. They're great.
Independent kitty cat or adoring lovable dog?
I love dogs. Wish I could have one, but I travel too much. So it's independent kitties for me. They are great pets. I think my pet identity is confused. LOL

!
Great cook or master at ordering take out?
Master at ordering take out. Although I'm learning to cook, which doesn't work out too well some days, but it's always good for a laugh.
Romance, comedy, or horror movies?
Truly it's action/adventure, or a really good spy thriller. Did I tell you I'm a square peg trying to fit into a round hole kind of girl?
*grins* Would have never guessed.
What's your biggest pet-peeve, in the world, that makes you want to beat something/someone?
People talking cell phones who are driving, trying to check out, or order while talking, and failing miserably at both tasks. *evil eyes* There are days when I feel like the only thing I'll be remembered for, is doing the first cell phone implant.
Ooohhh, you're a little dark. NIICCCCCEEE
Back to Work
Are you insanely organized or are there notes written on everything?
I get accused of being OCD organized, so I probably am.
Again...accountant. I can't organize pretty much anything. You should see my pantry

!
What's the biggest misconception people have about you & your writing?
I'd be foolish to say there aren't any, but I don't worry about them. People will think or believe what they want. Simply because believing something about someone often has more to do with what they need inside themselves than the actual truth. So I choose to focus on the good things in life and writing instead.
What's the writing no-no that makes you want to scream?
Head hopping. It doesn't bother me to read it. If it's done well, I enjoy it. But it seems for those on my level it's a big no-no to write.
I'm with ya

!

It can get very frustrating.
What part of writing makes you want to pull your hair out and scream like a banshee?
There really isn't one. Honestly, I'm not much of a screamer.
*giggles* Not something to say to a romance author and think she's not going to turn it into something else

!

LOL
You've done so much in your life. Tell us, how the heck did you go from being an Esthetician (skin care woman) to a Race Car Mechanic and driver? *grins* You're so cool!
You're so sweet

!

Actually I was a mechanic first. I had to petition the high school principal to let me take auto shop class. Reluctantly, he said yes to me being the only girl in the class. Of course I passed

!

Since I can remember, I've always loved books and cars. I left racing behind when my son was born, and only returned to it after he grew up and started his own life.
About the esthetician thing, I was hired into the salon as manager since my background is accounting (I knew it

!!!

Damn I'm good

!

Sorry for the interruption, Sutton.) and small business management (snore), my son was small so there were no race cars in my life at this point. It just seemed like a natural extension of the whole salon scene. Besides, have you noticed I like weird stuff? *grins* When I came to work the girls would remind me to put on make-up, and they would fix my hair. LOL. It was terrific. They were a great group of women. I still miss them.
Any advice for aspiring writers?
Sure. It's not my own, but I follow it. Nora says, write. You can fix anything but a blank page. And don't give up if it's what you want. What do you call a writer who doesn't give up? Published. That's Joe Konrath. And their success bears out the truth of their words.
Thanks so much for having me today

!

I loved being able to come and visit. It's always lots of fun

!
For the stalkerati peeps, you can find me here:
Sutton Fox, thanks so much for being here. :) Now a sneak-peek at her soon to be released, Christmas Knight.
Glory Dawson needs to catch a break. Thanks to the economic downturn, she's lost her job, her home, and her child. Just when things can't seem to get worse, they get weird. A crazy grandmother, muggers, heirlooms, and armor. Armor? Just what a girl needs to save the day.
Christian Knight has spent his life trying to make sense of his family's patriarchal lore. In the process, he's built a dynasty. It's given him everything. And nothing. Despite his sibling's best efforts, he still spends every Christmas, and most of his life, alone.
In the search for true love, do two kindred souls look to the future, or the past?
Everyone, Have a Sparkling Day and I'll see you next week when I have fantasy writer, Mary Ann Loesch!