Much like everyone else, as an author, there is defining moments in a career. The first major one is the decision to write. The next, go forth and push the limits of yourself. Many times we must type away while enduring the endless chatter of our characters. We hide from our children, during the day, getting up early in the mornings or staying up late into the night--trying to finish 'one more scene'. It's not an easy life. Our significant others tend to get ignored. But, then something wonderful happens and the 24/7 schedule is worth all the sacrifice. Today I am pleased to announce that the one and only award winning author Diana Cosby graciously excepted my invitation to be on Talkin' Tuesday. I have to say this is a high point for me to be able to sit down with her and chat. She's wonderful person and a hell of an author!
RR-
You were just featured in Woman's Day for the 'It's Never Too Late' article. Were you on top of the world or what?
DC-
It was truly exciting as humbling to have been featured in the April 17th issue of Woman's Day. I've been blessed with so many people who have taken time out of their crazy lives to make a positive difference in mine, that if anything in the article helps to inspire others, it's truly a blessing.
I saved the article so I can bring it in to my Creative Writing class and say, "See! It's never too late!".
RR-
You started your writing career late in life, do you feel if success had come earlier you wouldn't have been prepared for it?
DC-
I believe that success later in life gave me a solid foundation of knowledge to make my decisions on, as well as friends within the industry to seek guidance. I wrote an article on this very topic:
http://www.dianacosby.com/sellinglaterincareer.html
Thanks for sharing!
RR-
You were a Navy Chief Meteorologist/Oceanographer. WOW! Please explain what that is.
DC-
I began my career in the Navy taking weather observations, which means going outside and noting the cloud types, temperatures, humidity and dew points then transmitting them to areas of need as well as other weather related tasks to serve the needs of the Navy. After several year, I attended forecasting school, then returned to the fleet to write weather forecast in support of military operations. My busiest deployment was serving on the flight desk in Spain during Operation Desert Storm.
My family has a military background--thank you for serving, it's an honor to know you.
RR-
You've said it was your Naval Military background that taught you to dream big and never give up. Was there ever a moment when you didn't think all the early morning writing (she used to get up at 4:00 am, before everyone else, so she could write) was going to pay off?
DC-
Many times I had my doubts, but with each, my military training taught me to dig deep and persevere.
Plus, drink a LOT of coffee!
RR-
Where did you get the idea for you series?
DC-
I've always been intrigued by stones as their meanings. I thought it'd be neat to mold a series around stones touched with magic, hence the MacGruder Brothers series was born. :)
And, what a series it is. :)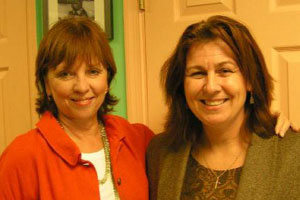 FOR FUN
You met my idol, Nora Roberts, and had a book signing with her. Was it like totally awesome, or what?!
Honestly, I think I'd be speechless. The day would go down in history!
Nora Roberts is a gracious, warm and wonderful person. It was my honor to meet her as to have the opportunity to do a book signing with her. The day was truly magical, and a memory I will cherish forever.
Independent cat or happy-go-lucky dog?
Independent cat.
Beer and TV or Wine and cheese?
Wine and cheese.
Insanely organized or organized mess?
Insanely organized.
BACK TO WORK
RR-
What is your favorite read/series?
DC-
Wow, really tough! There are sooo many authors out there that write amazing stories. My first choice would definitely be historicals!
RR-
Who got you into reading?
DC-
I was a loner in my youth and the librarian introduced me to the fabulous journey found in books.
RR-
Are your children big readers? Do they read your books?
DC-
My oldest son in the Marines loves to read, with my daughter in the Marines close on his heels. My youngest, entering the Marine Corps later this year likes reading, but prefers to focus on other interests more.
Sounds like you've raised some wonderful kids. :)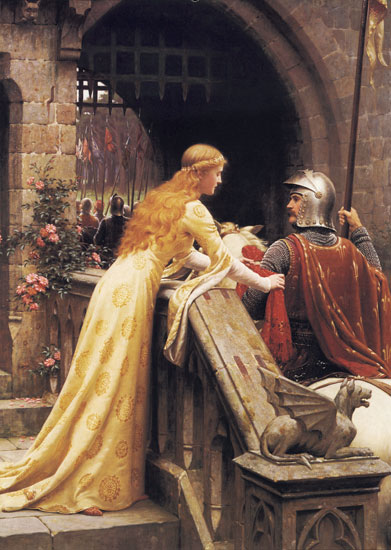 RR-
People have asked me what my ultimate goal is to buy when I'm a success. I want new windows in my house. What are you going to get or have gotten to celebrate your success?
DC-
For inspiration for my series, I bought, "Godspeed," by Edmund Leighton:
What a beautiful print. I can see why it's inspirational.
RR-
Looking back, what was the pivotal turning point in your career?
DC-
Joining Romance Writers of America (RWA) and connecting with other writing professionals.
RR-
You donate 10% of your royalties to the charities of your choice. What a wonderful thing! When and what moved you to do this?
DC-
Throughout my life I've been blessed with so many people who have made a positive difference in mine, and I've always enjoyed giving back and if possible, inspiring others to go for their dreams.
RR-
Any advice for aspiring writers?
DC-
Define your dreams. Until you know what you want, how can you go after or achieve them? Follow your heart, believe in yourself and persevere. Only YOU can write the story within your heart!
Great advice, Diana. :)
Diana's 3rd book in the MacGruder brothers series, "His Conquest", is now out. Enjoy! (I love her covers. Heeheehee)
Seathan MacGruder, Earl of Grey, is not unused to cheating death. But
even this legendary Scottish warrior is surprised when a beautiful
Englishwoman creeps to his cell and offers him his freedom. What Linet
wants in exchange, though—safe passage to the Highlands—is a steep
price to pay. For the only thing more dangerous than the journey through
embattled Scotland is the desire that smolders between these two fugitives
the first time they touch . . .
Thanks again for talking with me, Diana, I know you're a busy woman. Hope you all enjoyed the visit and I hope to see you next week when I have Rita Vetere sitting down for a cuppa.
Have a Sparkling Day!
Rebecca Rose